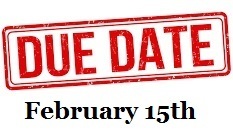 RAY-CARROLL COUNTY GRAIN GROWERS SCHOLARSHIP
Janell Castle
Wednesday, August 29, 2018
Ray-Carroll County Grain Growers Scholarships
***ONLY students who are children of Ray-Carroll members or members of Ray-Carroll themselves are eligible for this scholarship***
Completed applications must be returned with ALL of the requirements by 1:00 p.m. on Friday, February 15th to Mrs. Castle IF you want me to mail it as they have to be in Richmond by Wednesday, February 20th. No exceptions.
Applications must be picked up from Mrs. Castle.
The Ray-Carroll County Grain Growers Scholarship Fund will grant several scholarships to seniors who are children of Ray-Carroll members or members of Ray-Carroll themselves and who are graduating this year from a high school located in the Ray-Carroll trade territory.
To be considered for this scholarship you must complete the following requirements:
1. Attend a school or university in Missouri.
2. Ensure that the completed application and required information are at Ray-Carroll's main office in Richmond by Wednesday, February 20, 2019.
3. Complete the application form in ink or with a typewriter or computer and sign it.
4. Write a personal information essay that covers the points listed below:
The vocation or profession you plan to pursue.
Why you have made this choice.
Why you desire to attend college or take vocational training.
The influence that you expect college or vocational training to have on your life.
How much education/training you plan to pursue.
How much of the cost you and your parents will be able to meet.
What high school has meant to you.
School, community and church activities.
Any other information you desire to present including unusual family or financial situations.
5. Ask three or more teachers or other individuals who have had you in class or activities to write a letter of recommendation for you. These letters should be given to the counselor, not handed to you. It will be your responsibility to choose an individual who knows you well and is able to write a knowledgeable letter about you and your abilities. Please check with these individuals before the scholarship deadline to ensure that the letters have been completed and delivered to the counselor.
6. Remind the counselor that he/she needs to include a copy of your seven-semester transcript along with a notation of your class rank and number of students in your graduating class, current grade point average, and ACT score.
7. Finish all materials in time for your complete application to be at the Richmond office by Wednesday, February 20, 2019.