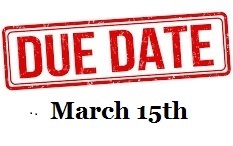 Women Legislators of Missouri Scholarship
Janell Castle
Sunday, March 03, 2019
Women Legislators of Missouri Scholarship - $500
Eligibility: Applicants must be:
Female
Missouri resident
Current high school senior
Graduating from a public high school, private high school or home school in Missouri this year
The Women Legislators of Missouri Caucus created the senior scholarship program to provide financial assistance to female students on the basis of leadership, academics and community service. Candidates must fill out an application and are required to submit a 500-word essay answering the question, "If you were a state legislator, what would you hope to accomplish and why?"
The group will select recipients and then hold a reception in their honor in the State Capitol Monday, April 15th, 2019. Scholarships will be presented to the recipients in the Missouri House Chamber.
http://myscholarshipcentral.or...