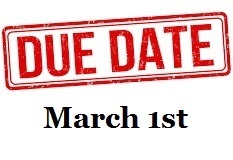 2019 PROJECT 21 SCHOLARSHIP PROGRAM
Janell Castle
Tuesday, August 28, 2018
The Missouri Gaming Association is pleased to announce the 2019 Project 21 Scholarship Program
This scholarship program provides Missouri students an opportunity to disseminate their message by writing an article or creating a poster or video addressing the issue of underage gambling. One (1) $2,500 first prize scholarship and Three (3) $1,500 second prize scholarships will be awarded.
The article, or video entry, completed application and other required documentation as outlined in the application must be received by March 1, 2019.
2019 Project 21 Application
https://secureservercdn.net/ip...