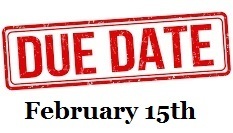 THE MISSOURI SOCIETY OF PROFESSIONAL ENGINEERS (MSPE) WESTERN CHAPTER SCHOLARSHIP
Janell Castle
Wednesday, August 29, 2018
MSPE Western Chapter 2019 Scholarship Program
Engineering Scholarships Available to Graduating High School Seniors
The funding for the scholarships described herein is provided by the Missouri Society of Professional Engineers Western Chapter. This scholarship is provided for graduating high school seniors who have a genuine interest in engineering. Please read the instructions carefully and fulfill all of the requirements. Should you have questions that your parent, guidance counselor or principal cannot answer, please contact Clint Mason, P.E., Western Chapter Scholarship Committee Chair, by email at clintdmason@yahoo.com with "Western Chapter Scholarship" in the subject line or by phone at 816-868-5920.
Eligibility Requirements for Western Chapter Scholarship:
1) Be a high school senior
2) Be a citizen of the United States at the time of application
3) Have at least a 3.0 grade point average (based on a 4.0 scale) for the 10th and 11th grades
4) Have at least a minimum score on the American College Testing Program (ACT) test of 29 in Math and 25 in English. Equivalent minimum SAT scores of 950 in Math and 750 in English are also acceptable.
5) Must enroll in an engineering program that has been accredited by the Engineering Accreditation Commission of the Accreditation Board for Engineering and Technology (ABET-EAC) at one of the following state institutions or a Pre-Engineering Program at a College or University that has a working agreement to transfer credits with one of the named schools listed below
Types of Scholarships
The MSPE Western Chapter will award at least two $1,500 scholarships to high school seniors preparing to attend one of the following Missouri schools of engineering, one of the approved transfer programs or an approved out-of-state school of engineering:
- College of the Ozarks, Point Lookout, MO
- Rockhurst University, Engineering and Computing Program (BS in partnership with UMKC), Kansas City, MO
- Southeast Missouri State University, Engineering Physics Program (BS), Cape Girardeau, MO
- Southwest Missouri State University, Computer Science (BS), Springfield, MO
- St. Louis University, Parks College of Engineering & Aviation (AE, EE, ME), St. Louis, MO
- Truman State University, Pre-Engineering 2-year Program (University of Missouri System), MO
- University of Missouri-Columbia, College of Engineering, Columbia, MO
- University of Missouri-Kansas City, School of Engineering, Kansas City, MO
- Missouri University of Science and Technology, School of Engineering, Rolla, MO
- Missouri University of Science and Technology, School of Materials, Energy, and Earth Resources, Rolla, MO
- University of Missouri St. Louis/Washington University Joint Undergraduate Engineering Program
- Washington University, School of Engineering and Applied Sciences, St. Louis, MO
- Or Any ABET-EAC Program
Note to Applicant
Deadline for submittal to Chapter Scholarship Committee Chair is February 15, 2019.
The announcement of all winners will be made on or before May 1. Scholarship awards are contingent upon enrollment in engineering and being accepted by the college or university. Additionally, the scholarship will be awarded in two $750 increments based on the following benchmarks:
1. The first $750 will be provided upon receipt of 1st semester enrollment confirmation.
2. The second $750 will be provided upon successful completion of the first semester and receipt of 2nd semester enrollment confirmation and a brief written update from the scholarship recipient on his/her activities and achievements.
Download Scholarship Application